Hilary Pyle
The Sligo-Leitrim World of Kate Cullen (1832-1913):
A 19th Century Memoir Revealed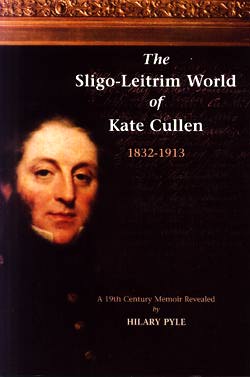 Kate Cullen's lively manuscript account of Protestant life in the west of Ireland, hidden for so many years and now edited with the help of contemporary letters, makes riveting reading about the close-knit life of Protestant Ireland, a society absorbed in its own triumphs and misfortunes, in its religion and fashions, and yet conscious that at that moment history was being made.
Kate Cullen's memoir about her childhood in Manorhamilton in the 1830s is a fascinating document preserved by her family who are now scattered throughout the world. The youngest of a family of twelve, she could describe Skreeney where she grew up in minute detail. She also recorded the subsequent fortunes of all the Cullens after the house had to be sold.
During the 1840s she lived in Dublin, staying for periods with married sisters in Sligo, Donegal and Leitrim. She witnessed the Famine, though she was cushioned from it, and became engaged to one of the officers involved in the relief works. Later she married the bank manager in Carrick-on-Shannon, moving as a widow to Sligo to earn her living as manageress of the County Club.
Kate remembered her experiences so vividly that around the turn of the century her daughter, Susan L. Mitchell, then a budding writer, persuaded her to dictate them. The memoir has an additional importance in the background that it reveals to one of the leading figures of the Irish literary revival. Susan L. Mitchell, eager to learn of her own origins, was later distinguished as a poet and friend of AE, Yeats and Seamus O'Sullivan.
'… an invaluable record of the time' The Irish Times. 'includes extracts from letters and other material as well as all sorts of relevant illustrations, making it a fascinating compilation' Books Ireland.
ISBN 0-9528453-2-6 Pbk IR €15.00

© The Woodfield Press. All rights reserved.