Home
Hilary Pyle
Red-Headed Rebel
Hilary Pyle
Red-Headed Rebel
Susan L. Mitchell
Poet and Mystic of the Irish Cultural Renaissance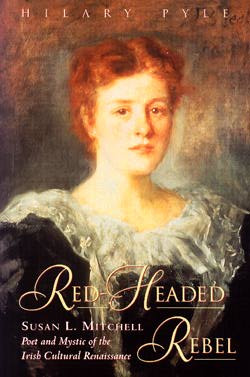 The Titian-haired beauty, Susan L. Mitchell, described by W. B. Yeats as 'the nearest approach they have to a true poet', was friend of Lily Yeats, Seumas O'Sullivan and Constance Markiewicz. Her name was linked in Dublin society with that of painter and mystic, AE. Originally from Carrick-on-Shannon and raised by her Unionist aunts in Dublin, she rebelled against privileged society and the Protestant Church in which she was reared.
By a trick of fate she exchanged life as a gentlewoman in provincial Birr for that of journalist on Plunkett's far-sighted publications, The Irish Homestead and The Irish Statesman, at a time when Home Rule was imminent. Objective despite her republican views, contemporary politics and the literary world were lampooned by her at enthusiastic gatherings of statesmen and fellow writers.
Her life preceding her Republican renaissance, one of privilege and stability, is now revealed through previously unpublished correspondence and papers. Dublin in the tumultuous years from Easter week 1916, the signing of the Treaty and the Civil War, is seen through her eyes.
ISBN 0-9528453-7-7 Pbk IR; €16.50

© The Woodfield Press. All rights reserved.