Home
Mark Maguire
Differently Irish: A curtural history exploring twenty-five years of Vientnamese-Irish identity
Mark Maguire
Differently Irish: A cultural history exploring twenty-five years of Vietnamese-Irish identity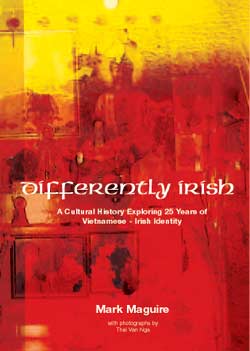 In August 1979 the first of a small number of refugees from Vietnam arrived in Dublin. They came to Ireland via camps in Hong Kong and Malaysia with harrowing tales of escape and of long periods of travel across the South China Sea. These were the so-called 'Boat People' whose plight captured newspaper headlines from the late 1970s onwards. Those who came to Ireland—some 212 persons in the first instance—were invited to do so by the Irish Government. Religious and non-governmental organisations carried out much of the resettlement work, and those who volunteered on a local level often built up life-long friendships with Vietnamese-Irish people. The majority of the refugees were dispersed to a variety of locations throughout Ireland, from Tralee and Portlaoise to Cork City. In the early 1980s most re-migrated to Dublin and now comprise an ethnic minority of well over 1000 people spread across several generations.
This is the story of the Vietnamese-Irish, of takeaway businesses, achievement in education, family, diaspora and identity. Much of this story is told in the words and through the eyes of the people themselves. What emerges is an image of a minority confronting its own identity in a fast changing Irish society.
ISBN 0-9534293-9-3; €22.00, 184 pp.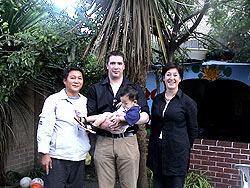 Mark with Thai Van Nga and journalist, Cathy Sheridan
© The Woodfield Press. All rights reserved.