Séamas Ó Maitiú, Barry O'Reilly
Ballyknockan: A Wicklow Stonecutters' Village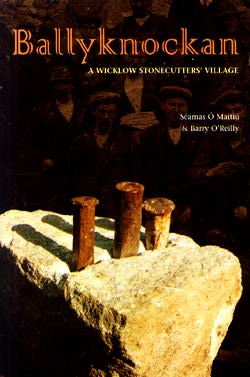 The history of quarrying and stonecutting in Ballyknockan, west Wicklow, goes back to the early nineteenth century. The Ballyknockan stonecutters were highly skilled and this book explores, using oral sources from surviving workers, the process of extracting the stone from the quarry face to its transformation into an architectural feature. Aspects of the social history of the community are outlined and a lively folk-art tradition in the area investigated.
The immense contribution of Ballyknockan granite to the architectural development of Dublin is dealt with and the skill of the stonecutters in decorating numerous public buildings such as the Four Courts, the Central Bank, the entrance to the RDS and St Francis Xavier Church in Gardiner Street.
'A very well illustrated account of the unique community' Books Ireland. 'This is the story of a village whose stone buildings are remarkable for the excellence of their construction and the quality of architectural detailing that makes them unique in Ireland' Independent Weekender.
ISBN:0-9528453-5-0 Pbk IR €15.00;

© The Woodfield Press. All rights reserved.