Susan Hood
Royal Roots - Republican Inheritance
The Survival of the Office of Arms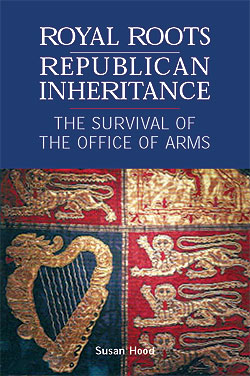 This is the absorbing story of the Office of Arms – Ireland's heraldic authority – and the oldest Office of State. Founded in 1552, and derived from an earlier medieval heraldry based on the traditions of sovereigns and members of the nobility, today the Office has a much wider relevance, providing heraldic services for Irish people and institutions throughout the world. This book is the history of its remarkable survival during the last 150 years, when it bridged the transition from Crown Government to Republican State.
The transfer of the Office to the Irish Government was delayed for over 20 years after Independence was secured in 1922. It became, in fact, the last Office to pass from British to Irish control, as late as 1943. This is just one of the fascinating episodes of the story. Others include fresh insight on the infamous theft of the 'Crown Jewels', in 1907; the Office's politically anomalous position in the Free State, when, in 1924, it designed and registered the arms of Northern Ireland; as well as its more recent international significance, including the design of the European flag, in 1954; arms for President John F. Kennedy, in 1961; and heraldic research for thousands of the diaspora.
THE AUTHOR
Susan Hood was born in Belfast in 1968, and grew up in Dublin. She holds an honours degree in history from Dublin University; and an MA in archive studies from the University of London. Employed as a researcher at the University of Ulster, she was awarded a doctorate in 1994, for a thesis on the history of Strokestown, County Roscommon. Currently employed as an archivist, at the Church of Ireland's Representative Church Body Library, Dublin.
ISBN 0-9534293-3-4 ; €27.00, 276pp + illustrations including colour plates
© The Woodfield Press. All rights reserved.