Martin Fanning & Raymond Gillespie (Eds)
Print Culture and Intellectual Life in Ireland, 1660 - 1941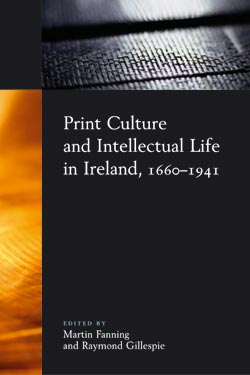 This innovative volume charts the impact of print and publishing in shaping the ideas that formed modern Ireland. Ten leading scholars from a variety of backgrounds examine how the production, circulation and reception of books reflected Irish intellectual life.
Through rigorous encounters with seminal works in their own particular fields - law, music, archaeology, Celtic studies, history, literary criticism, art - the contributors explore how print and publishing impacted on the way ideas were shaped and spread in modern Ireland.
These studies take the reader from the early modern elite literary coteries, and the restricted world of the hand press, to the commercial mass markets of nineteenth- and twentieth-century Ireland. As a result of these changes a social and intellectual world, at once international, and yet specifically Irish emerges in which ideas were shaped by print, and in turn, shaped, the role of the book in modern Ireland.
Chapter titles and contributors
Circulating ideas: coteries, groups and the circulation of verse in early modern Ireland
ANDREW CARPENTER
Gathering ideas: a clerical library in County Cork, 1744
TOBY BARNARD
Publishing the law: John Finlay (1780-1856)
W.N. OSBOROUGH
Printing history: editing and publishing documents in nineteenth-century Ireland
RAYMOND GILLESPIE
William Reeves and the edition of the Life of St Columba: the continental connection
JEAN-MICHEL PICARD
'An honour to the nation': publishing John O'Donovan's edition of the Annals of the Four Masters, 1848-56
BERNADETTE CUNNINGHAM
Historiography, heritage, inheritance: Irish castellology and Leask's Irish castles
TADHG O'KEEFFE
The sovereign ghosts of Thomas Moore: music, politics and the Irish literary imagination
HARRY WHITE
Cabaret, sex and Independence: publishing in the early Free State
NICHOLAS ALLEN
'A certain Irish lover of well-bound books': Sir Edward Sullivan, Bart (1852-1928)
NICOLA GORDON BOWE
Appendix: complete list of Four Courts Press publications, 1977-2005
MARTIN HEALY

THE EDITORS
Martin Fanning is an editor at Four Courts Press.
Raymond Gillespie is Associate Professor of History, NUI, Maynooth.
ISBN: 1-905094-00-0 (10-digit); 978-1-905094-00-4 (13-digit)
288pp, € 35.00
Publication Date: June 2006
© The Woodfield Press. All rights reserved.