Home
N.C. Smith
Dorothy Macardle
Nadia Clare Smith
Dorothy Macardle
A Life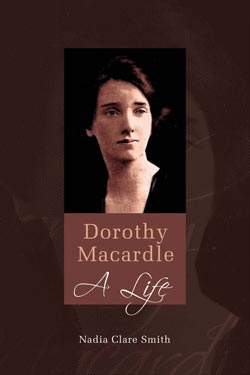 "Many readers will be aware of Macardle's monumental book, The Irish Republic, but few will know much about the author. This, the first biography of Macardle, alerts us to her as a political and social activist, a writer and broadcaster who operated on an international stage, a friend and confidante of many of the leading politicians and cultural figures of her generation. Smith has done an immense service to Irish political and cultural historiography in returning Macardle from obscurity." MARIA LUDDY
"The passion for national independence can be as personal, heartfelt a thing as love or ambition or the fear of death." DOROTHY MACARDLE, the Nation, 24 August 1929
Mainly remembered for The Irish Republic and her close association with Éamon de Valera, Dorothy Macardle (1889-1958) was one of the most popular and influential Irish historians of her time. She was not only a historian, but also a journalist, playwright, novelist, political activist, and student of the occult. This first biography of Macardle traces her life from her involvement in the War of Independence to her role as a leading civil libertarian in the 1950s, and discusses her literary career and international human rights work. An Irish nationalist writer with an international reputation, Dorothy Macardle was a woman of many parts, and her career sheds light on modern Irish political history, interwar-era women's history, and Irish historiography and literature.
ISBN: 978-1-905094-03-5
164pp, €19.95, sewn paperback.
Publication Date: July 2007
© The Woodfield Press. All rights reserved.