Home
Liam Clare, Máire Ní Chearbhaill,
Trouble with the Law
Liam Clare and Máire Ní Chearbhaill
(Editors)
TROUBLE WITH THE LAW
Crimes and trials from Ireland's past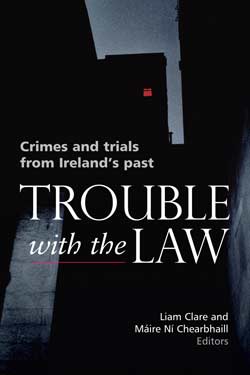 The ten stories in this collection reveal the variety of ways in which human beings got into trouble with the law, whether through extortion, adultery, bigamy, petty crime or rebellion. The intrigue, outrageous behaviour, massive fraud or petty crime committed by a range of characters in Trouble with the Law uncover something of the local, public and private worlds of Ireland in the past. They reflect the relations between husbands and wives, between rulers and the ruled, and between buyers and sellers.
Law-breakers fascinate historians. Their interest is not limited to questions of guilt or innocence but extends to what the breaking of the social rules tell about those who lived in former times. As the authors show, trials were not simply technical events in which the law was applied. They were events that returned the world to normal and the rituals of the courtroom were part of the affirmation of the prevailing social order.
Publication date: September 2007
ISBN 978-1-905094-02-8
216pp
€25.00 euro / Stg £17.00 / US$35.00
© The Woodfield Press. All rights reserved.