Dermot James
From the Margins to the Centre
A History of The Irish Times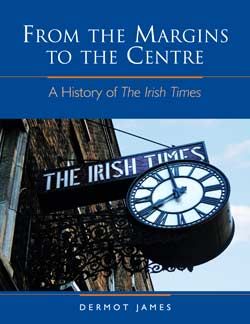 From its creation in 1859, the Irish Times has been an influential presence in national affairs. Initially the voice of Home Rule, then of Unionism, the paper adapted to the changing circumstances of the twentieth century, consolidating its position as the nation's premier journal of record while developing a new rôle as champion of liberal values often at odds with those of the political and religious establishment.
Based on thorough perusal of available records and on personal recollections, Changing Times charts a chequered but always fascinating history, enlivened by a wealth of anecdotes and by vivid pen-portraits of the often colourful individuals who, as managers or editors, steered the fortunes of the paper, and of the outstanding journalists, columnists and cartoonists who made it 'the best Times this side of the Atlantic'.
Until now there has been no overall history of this significant actor in Irish social and political history. Few could be as well placed to remedy this omission as Dermot James. Entering the staff of the Irish Times in 1946, James spent his entire working life with the newspaper, starting at the front counter accepting 'small ads' and ending with two decades as company secretary. He is thus uniquely qualified to give an account which balances the two essential, if sometimes conflicting, aspects of a busy daily – the editorial and the entrepreneurial.
Dermot James spent his working life in the newspaper business. He was appointed company secretary of The Irish Times Ltd in 1974 and subsequently became company secretary of The Irish Times Trust Ltd and remained in that position until taking early retirement. He is also author of The Gore-Booths of Lissadell and of John Hamilton of Donegal 1800-1884: This Recklessly Generous Landlord, and co–author of The Wicklow World of Elizabeth Smith 1840–1850.
ISBN 978–1–905094–04–2
Hbk (hardback) 320pp, €45.00; Stg. £35.00; US$70.00, 320pp
Publication date: March 2007
They said:
'[Douglas Gageby] took a niche newspaper with a narrow tradition and made it an indispensable instrument for those who wished to be informed in mainstream Ireland'.
Patsy McGarry
When his mother saw him reading the Times, she ventured that his father would have said: 'Is this what the men of Ireland fought and died for, that my own son is sitting there at the kitchen table reading the freemason's paper'.
Frank McCourt
'Now [The Irish Times] has created a new class of reader, including Catholic bishops who formally would not be seen dead with it and are now prepared to flaunt it under their arm'.
Brian Inglis
'The Irish Times may be prissy, self-important and arrogant, but at least its mistakes and prejudices are honest ones. There is no hidden agenda'.
Fintan O'Toole
'Douglas Gageby moved the paper from the margins to the mainstream of Irish life [and] left behind a great newspaper, a beacon of independent and trustworthy journalism in a world of conglomerates, cross-selling and so-called synergies'.
Geraldine Kennedy

© The Woodfield Press. All rights reserved.