Dermot James
John Hamilton of Donegal 1800-1884
This Recklessly Generous Landlord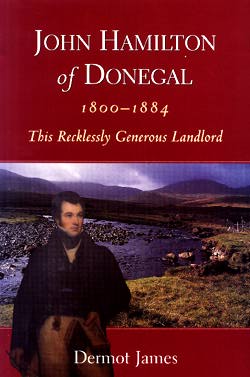 John Hamilton kept a journal - upon which this book is based - recording events on his estate and during his travels around Ireland and on the continent. He was well travelled and spoke six languages.
'Dermot James has performed a worthy task in bringing this unique character to life in an intriguing book. Hamilton may have been untypical of his class, but that untypicality makes his life and labour so much more instructive' The Irish Times.
'The book is a very interesting read … very well researched, a very valuable and unusual history of the times' Gay Byrne on RTE Radio.
'It portrays John Hamilton as a man who won the respect and affection of his tenants. During the Famine only one of his tenants died of starvation and very few had recourse to the poor house or relief works' The Impartial Reporter, Enniskillen.
'Dermot James has reconstructed the life of this county Donegal landlord in a readable and well-structured book which presents a man whose life simply does not fit the alien stereotype image' The Church of Ireland Gazette.
'A full scale study of a very untypical landlord. A thorough and very readable book' Books Ireland.
ISBN: 0-9528453-4-2 Pbk IR; €18.00

© The Woodfield Press. All rights reserved.