Valerie Jones
a Gaelic experiment
The Preparatory System 1926 - 1961
and Coláiste Moibhí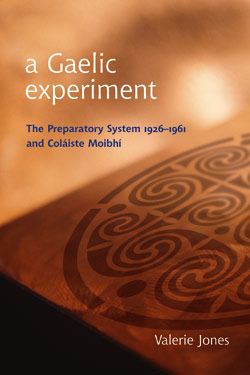 This is a fascinating story of efforts by successive governments to gaelicise Irish education. To enable teachers to become proficient at Irish the preparatory system was established in 1926. It consisted of seven residential colleges providing second-level education for student teachers; each a 'mini' Gaeltacht with all activities conducted through Irish. Entry was gained through a highly competitive examination which favoured Gaeltacht students. Throughout its 35-year existence the system was strongly opposed by the INTO and by the Department of Finance.
These are some of the absorbing aspects of the story; others include the sudden closure of Coláiste Chaoimhín in 1939; and the role of notable figures of the period such as Archbishop McQuaid, Bishop Browne of Galway; de Valera, Ernest Blythe, Richard Mulcahy, Seán MacEntee and Thomas Derrig.
The story of Coláiste Moibhí, the Protestant college, and its contribution to the survival of the religious minority, is included.
ISBN: 1-905094-01-9 (10-digit); 978-1-905094-01-1 (13-digit)
300pp, € 29.95
Publication Date: September 2006
© The Woodfield Press. All rights reserved.