Hilary Pile
Cesca's Diary 1913 - 1916
Where Art and Nationalism Meet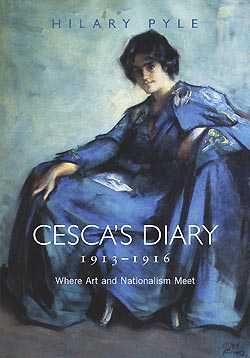 This is a fascinating account of the life and times of Francesca Trench. Cesca, as she was better known, took the name Sadhbh Trínseach during the Gaelic Revival and kept a detailed diary of her involvement in the national movement as a member of Cumann na mBan during the build up to Home Rule, as well as writing a personal account of her presence in the Howth gun-running and the events of Easter Week, 1916. Before the outbreak of the First World War she was at art school in Paris where she associated with students from other small countries seeking freedom. Her passion for Ireland affected her art, her love life, and relations with her unionist family.
The book is liberally illustrated with her portrait sketches of friends and associates in the movement, as well as examples of her oil paintings and pastels, the majority of which are held in private ownership.
Hilary Pyle has devoted five years of her life to translating the Trench diaries. The seven manuscript journals were written in Irish, English and French.
This book is an invaluable resource for historians, students of the history of art and researchers in the fields of history, sociology, politics, Irish studies and women's studies.
ISBN: 0-9534293-7-7, €45.00, 450 pp. approx.
Illustrations: 16pp full colour, oils and pastels; 70 black and white plates
Publication Date: November 2005
© The Woodfield Press. All rights reserved.